ACE/MAG Project


Be sure to visit the new ACE/MAG interactive photo library!

Magnetometer Instrument
The Magnetometer instrument consists of one electronics box mounted on the spacecraft top deck and of two sensors mounted at the end of two boom.
ACE Spacecraft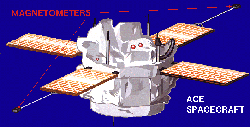 The spacecraft was built at the Applied Physics Laboratory of the John Hopkins University in Laurel, MD. The photo at right shows how the magnetometer sensors are mounted at the end of of two secondary booms hinged at the end of two of the four solar panels.
Launch and Mission
Science
The ACE/MAG Team
Related Links

Original HTML Author: Jacques L'Heureux
Current Author: Charles W. Smith - Charles.Smith@unh.edu